LUMI attends the Re-Opened Offline 130th Canton Fair
Date: 2021-11-08
The highly popular China Import and Export Fair, also known as the Canton Fair, has been held online for the past two years due to the worldwide pandemic. This year, however, the 130th Canton Fair reopened for offline exhibition again. Established in 1957, the Canton Fair is a spring and autumn trade show held in Guangzhou, China and is the largest trade event in China. It serves as a platform for exhibitors to demonstrate their strengths, enhance brand awareness, and expand business worldwide.



As one of the most experienced and established B2B manufacturers of Mounting Solutions, Ergonomic Office Furniture and Pro-AV products, LUMI participates in the Canton Fair as an opportunity to meet and greet customers from around the globe. LUMI attended the Canton Fair at booths 5.2 L34-36 and M13-15, displaying our latest and hottest products for the markets and customers we serve.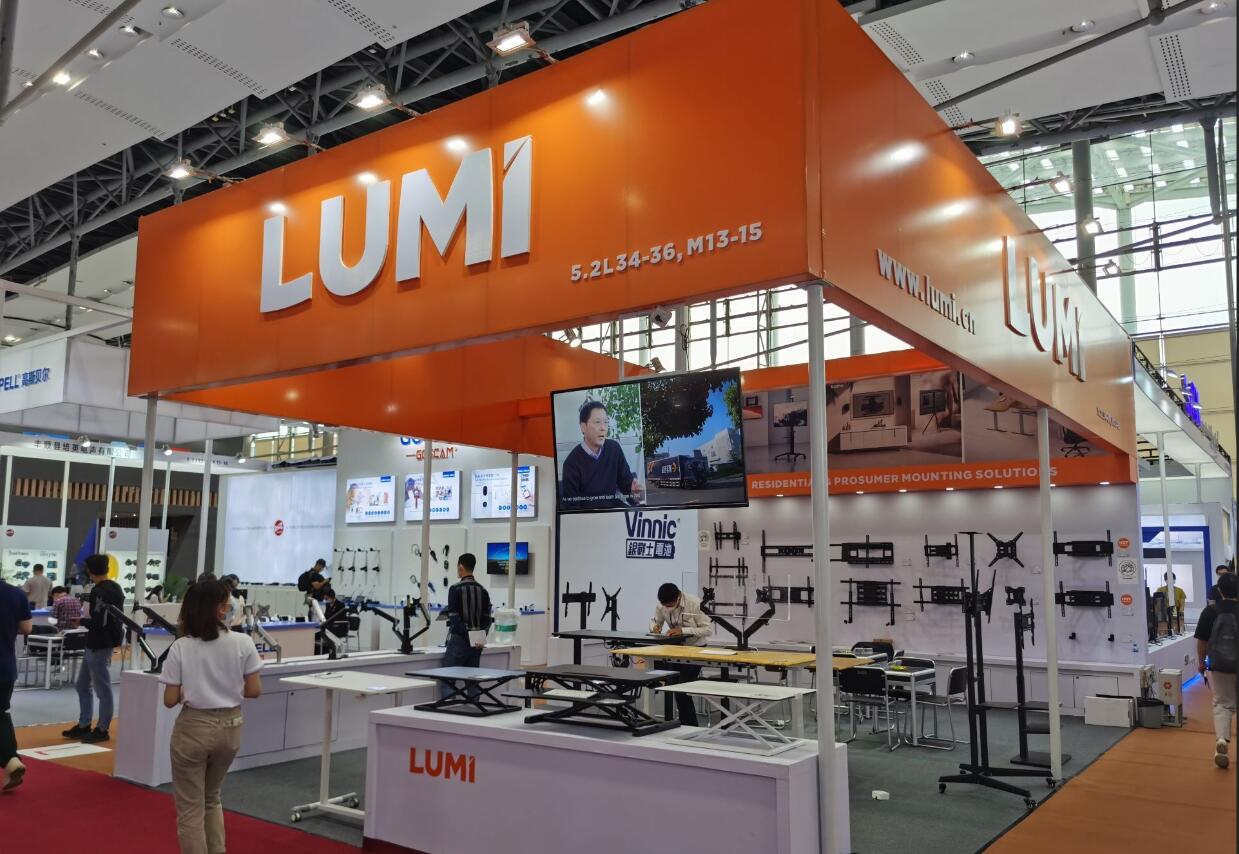 One of the fastest growing product segments in the Consumer Electronic and Office Furniture markets is Computer Monitor Arms. LUMI has quickly become the number one choice for OEM and ODM brand owners in Computer Monitor Arms – offering nearly 200 variations and models along with associated accessories that improve and enhance work being done in front of a computer or laptop. LUMI's LDT49 Monitor Arm Series recently won the iF DESIGN AWARD for 2021, which recognizes our dedication to product innovation and development in the ergonomic product area. These monitor arms feature slim arms and outstanding flexibility - ideal for users that require frequent display adjustments, including financial analysis, creative work and more.


During the Canton Fair LUMI also displayed our best and newest products in other categories including Monitor Risers, Workstations, Sit-Stand Desks, TV Mounts, Soundbar Brackets, Gaming Desks and more.

Apart from products for work, another important part of life includes the home and family. To many people "Home" means comfort and security. Therefore, LUMI does our best to create products that promote a comfortable space for family TV viewing. Recently we introduced our full-motion articulating LPA63 Series TV mounts. With split-arms, they can be installed directly on a flat wall or in any corner. The unique split-arms design provides a solid structure for holding most TVs up to 70''. The full-motion design provides maximum viewing flexibility whether the mount is used in small or large space.


The 5-day Canton Fair is a unique opportunity and a significant milestone for LUMI, especially given the current global pandemic climate that has many businesses still fragile and waiting for the world's economic recovery. LUMI remains ready and confident to face adverse and challenging economics and supply chain situations. Participating in the 130th Canton Fair has encouraged us to further embrace the world market, with the goal of providing our customers with innovative, profitable products for the markets they serve. Check out LUMI.cn today for more exciting new products for your business.
If you attended the Canton Fair, we enjoyed meeting you and look forward to seeing you again next time! If you didn't have a chance to meet with us and need more information, please feel free to contact us any time at info@lumi.cn.