How to Choose a Right Desk for Kids
Date: 2019-05-20
Ergonomic desks and chairs are playing an important role in children's growth. Children should enjoy furniture specially designed for their needs that provide support to encourage focus, creativity, health.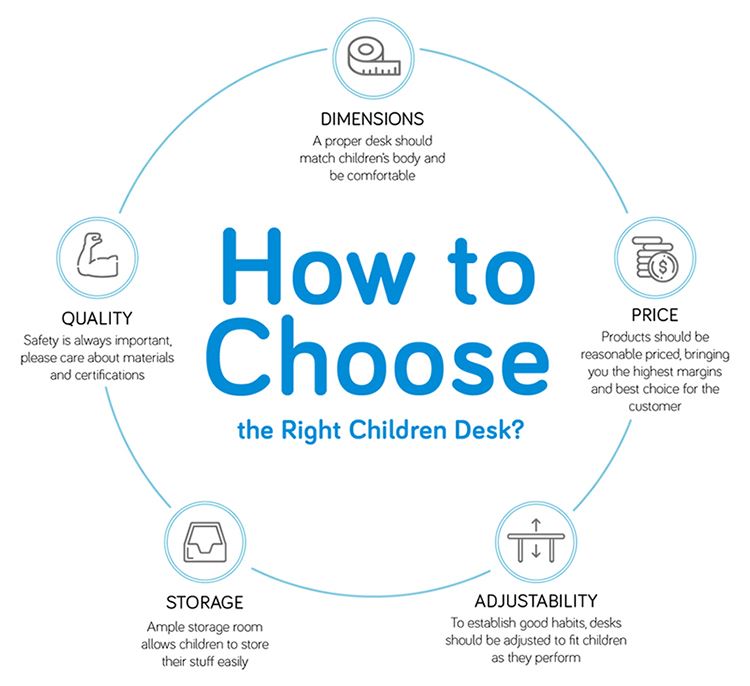 1. Proper Height Settings
As we all know, proper height of the desk and chair is crucial to the correct sitting posture - provide better support for the spinal and muscular system. But our children grow very fast so that the fixed-height desk cannot keep up with their growth. While with height-adjustable desks and chairs, problems can be easily solved. Our growing chair and desk can provide more flexibility, so it can be regularly adjusted to suit our children's heights. In addition, using adjustable desks and chairs in the classroom provides an optimal solution to fit multiple age groups throughout a school day.
Recommended Desk and Chair Height Chart *

Body Height Range
90~120 cm
120~140 cm
130~160 cm
145~180 cm
160~190 cm
175~210 cm
Desk Height
54 cm
60 cm
65 cm
71 cm
77 cm
83 cm
Seat Height
31 cm
35 cm
38 cm
43 cm
46 cm
51 cm
*Information provided is for reference only.
2. Sit-to-Stand Transition
Nowadays, children spend a lot of time on sedentary behaviors, like reading, writing, watching TV, and playing video games. According to studies, now children are spending as much as 80% to 90% of their time a day inactive. Especially for the students who spend an average of 7 to 8 hours a day in school- leading to heavy stress to their back, spinal, neck, wrists and legs, and will affect their body shape and growth in the long term. Now, developed countries have been paying attention to this problem. The only thing that matters is changing position regularly. Both parents and teachers should encourage children to become more active, taking time to stand and move regularly rather than sitting at their desk or in their chair. LUMI's ergonomically designed desks provides comfort and free movement, that means by using our adjustable sit-stand desks, the frequency of transition from sitting to standing increased. It helps reduce stress, enhance blood circulation, and increase the ability to concentrate and brain activity. What's more, some of the desktops can be tilted in different angles to meet different user needs like reading, writing and drawing.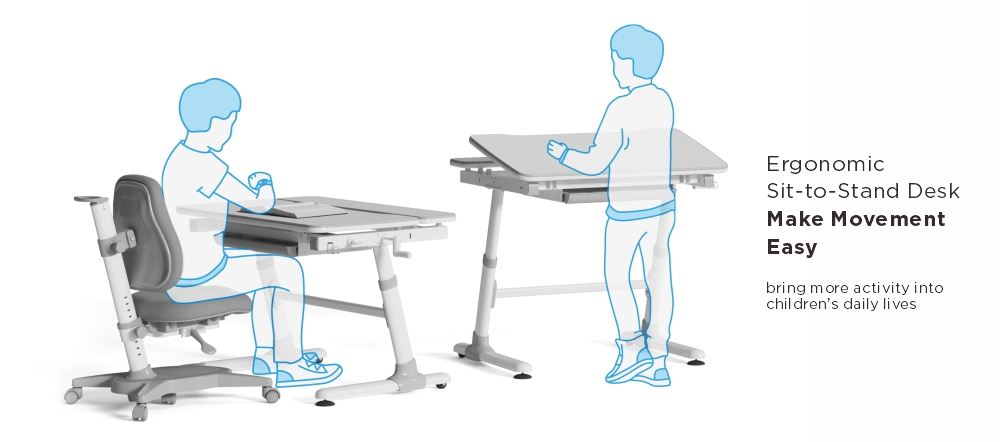 3. Built for the Individual
Indeed, children are the future. Every child is different - in body and mind. LUMI are dedicated to ensuring the next generation have the brightest and most active lives possible. Instead of having children to adapt their desks and chairs, let the furniture adapt to them. Choose from multiple options including colors, desktop shape & surface style, every child can build his desk uniquely.
4. Commitment to Child-Friendly Trait
LUMI has designers and developers who are parents, too. We focus on safety and ease of use with children in mind. By means of eco-friendly recycling material and special safety mechanisms, our desks and chairs guarantee consistent quality to carry out our child-friendly philosophy.



5. Get Away from A Mess, Storage Made Easy
In addition to ergonomics and quality, space is significant for children's furniture. Keeping clean is a good habit since a tidy environment enhances concentration on learning and creating. We encourage kids and teens to organize and sort their little treasures by providing large storage space and functional accessories, like bookshelf, book holder, arm rest, mobile cabinet, etc. Don't miss the good chance to let your child learn to manage themselves.



For all the reasons above, LUMI as the professional children furniture supplier and manufacturer, offering ergonomic desks and charis ranging in age from kids to teens, are designed to bring more activity into their daily lives.


Need the best ergonomic solutions at the most affordable prices for global markets? Simply contact us
info@lumi.cn
with your custom requirement and a LUMI representative will contact you right away.