How to Find the Right Monitor Mount?
Date: 2020-08-10
A Monitor mount, or monitor arm, supports and raises computer, laptop, or tablet screens, to reach your ideal viewing height and get a comfortable position. It's ergonomic design, which helps prevent or relieve the fatigue and strain caused by a long time working in improper postures. Meanwhile, a monitor arm can be attached to the back of the desk, which releases desktop space and optimizes the working space on your desk.

How to choose?

Before shopping for your ergonomic monitor arm, find out how much does your monitor weighs, which will determine the weight capacity of the monitor arm you choose.

Also, make sure whether your monitor is VESA compliant. The VESA mounting standard defines dimensions of the four-hole attachment interface on the back of monitors. You can find the VESA compatibility in the manual or product information that came with your monitor. If your monitor isn't VESA compliant or you use a laptop, the monitor adapter is a good option for you. The adapter kit is designed to offer mounting solutions for non-VESA monitors, which is universal and almost fits all flat panel screens.

Additionally, decide how many monitors you plan to use. It is proven that dual monitors are better for multitasking, a great gaming experience, and can increase visibility and productivity. Therefore, you can set up a multi-monitor arm for multiple screens or a single monitor stand according to your demands.

There are different monitor arm types in the market, including free-standing mount, desk-clamp mount, grommet mount, and wall or ceiling mount. Determining the right types depends on your workstation function and your working style.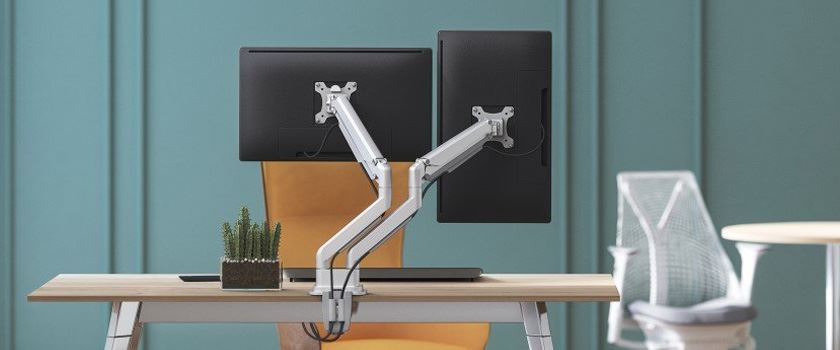 How to setup?

When viewing monitors, it's all about positioning. Once you pick out your right monitor mounts, set up it correctly to find your comfortable postures.

Firstly, place it directly in front of you and set the top of the screen at your eye level to minimize neck strain when looking straight. Also, your monitor should be about an-arm away from your eyes to avoid awkward postures. If your monitor is over 20 inches wide, set it slightly farther than an arm's length distance. Besides, tilt the screen slightly a bit backward (about 10-20°) helps prevent any computer eye strain or fatigue.

Additional accessories?

Once your monitor is mounted appropriately, you can enhance computer display's usability with monitor mount accessories. For instance, you can add an under-desk keyboard tray to place your keyboard and mouse at the correct height, and gain more space on the desktop.

Also, an under-desk CPU holder keeps the CPU case up and off the ground, avoiding dust or dirt while allowing space to clean and vacuum beneath the desk. Some of the CPU mounts feature 360° swivel adjustment, which offers convenient access to ports and cables.

The footrest is an essential piece to the ergonomic workstation setup. It helps petite users to get the ergonomic sitting posture by raising their feet position. Besides, it can improve blood circulation, decrease swelling and varicose veins when sitting for long periods.
As a professional manufacturer for ergonomic products, LUMI offers a variety of ergonomic office solutions, including monitor arms, laptop risers, sit-stand desks, sit-stand desk converters, and other accessories. Whether you look for multiple monitor mounts, or want to securely mount your monitor to your wall, or add accessories to your workstation, we always have a perfect solution for you.