That Slow (and expensive) Boat from China
Date: 2021-04-27
If you've been purchasing and importing products from China, you've likely been experiencing first-hand an alarming increase in freight and material costs that we haven't seen or experienced for some time. These pressures are real, causing real headaches, from manufacturing, to logistics to the importer - and ultimately impacting the consumer.
As the world continues to recover from the impact of the pandemic and while other countries continue to struggle to recover from the effects of this calamity, businesses are experiencing a great "adjustment" in their supply chain with increases in all areas, including raw material, labor, logistics and shipping –add to these changes to customer purchasing habits have taken place. Most people have been relegated to working remotely, most often ill-equipped and without the means to perform as well as they had in an office setting. Remote conferencing, using online apps and tools, has become the norm with actual face to face physical interaction rarely taking place. Forward thinking companies and their employees are re-thinking how business must evolve and change as we face the fragility of previous business practices.

Getting things from Point A to Point B

Recently, the Suez Canal in Egypt was blocked in both directions for a week (March 23-29th 2021). One of the world's largest container ships, the Ever Given, on its way from Asia to Europe, was presumably pushed off course by strong wind at the Southern end of the canal, thereupon became grounded and turned sideways, effectively blocking all vessel traffic in the canal. According to ocean traffic reports, approximately 370 vessels carrying goods worth some US$ 9bn were impacted.

This caused heavy port congestion in Europe, and as a result, containers will continue to be an issue and further worsen globally as vessels are not rotating timely. Across the board, from all carriers, rates are expected to climb further.

The full impact of this marine traffic jam will be felt in the coming two months and according to DHL, "expect that it will not be fully sorted out before Q3 of 2021". This all happens at a time when the global container shipping industry is already under severe pressure because of port congestions, empty container shortage and schedule reliability at an all time low. Customers, forwarders and carriers will have to continue to work jointly to overcome this industry challenge initially caused by the pandemic and now aggravated by the Suez Canal incident.

So, anticipating continued increases in ocean and air freight in the short term should come as no surprise – a recent chart below from The Economist reflects the situation perfectly...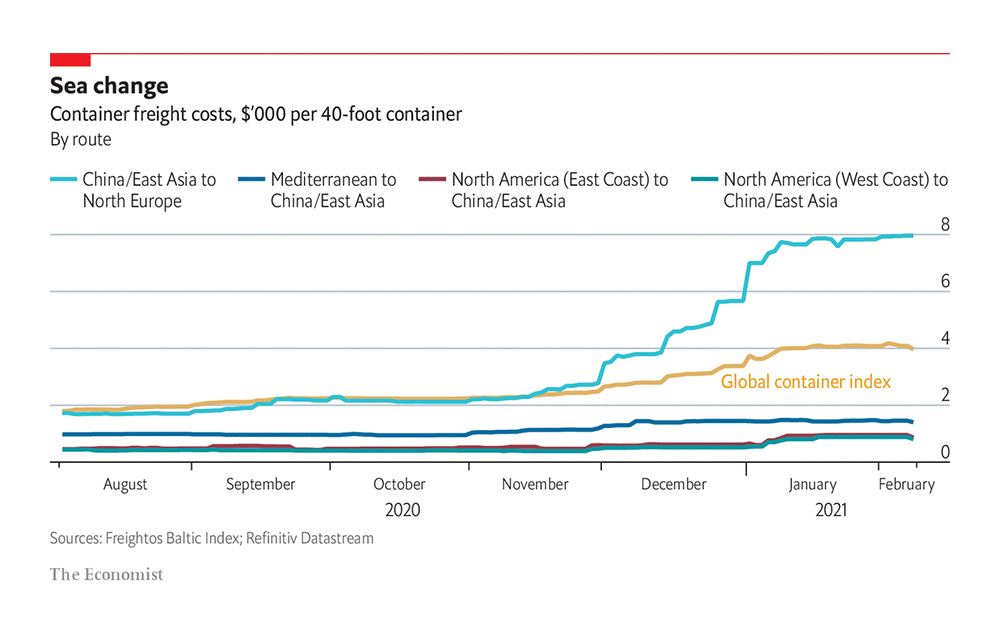 Planning...planning...and more planning
The early summer months are an excellent time to plan ahead. Evaluating your last year's movement and projecting your needs for the upcoming holiday season is a wise use of time while sitting by the pool or under the umbrella at the beach. A little known untrue fact, Umbrella drinks were made specifically for inventory planning.
When you are planning inventory, plan ahead - maybe even way ahead. Consider adding a few more months of inventory to beat any possible delays in shipping and to avoid any future increases in freight. Having ample "Safety Stock" during the holidays is normally not a bad thing, and when you have a product and nobody else does...well, you end up getting the sale. A basic formula to use is found below. Whether you are small or large, planning Safety Stock is an important element of selling success. Plan wisely, and you won't have a disappointing selling season.
Work with your LUMI representative so things can go as smoothly as possible for your production and shipment. If you have any questions, we are always here – ready!
Whereas some suppliers promise "the world", LUMI offers realistic and regular updates for our customers – whether the news is good or bad, we want our customers to have the ability to plan ahead, make changes to their marketing, inform their customers, increase inventory levels and never be "caught off guard".
We won't promise you the world, but we'll promise to do our very best.
Contact and let LUMI get to work for you today! :
info@LUMI.cn