Welcome to the Gaming Products VR InfoSpace
Date: 2021-04-07
Culture is Digital
Here's a big shout out to the gamers! Recently, LUMI has launched a number of ergonomic products used in the fastest growing product segment today – GAMING. With these new premium racing outfits combined with our new virtual reality marketing tools, we're certain you will find new products that offer increased sales and growth for your business by offering your gaming customers the most immersive experience.
Why do we use VR?
To solve the query, let's figure out what it is first, so here's the definition: Virtual Reality (VR) refers to a simulated experience that can be similar to or completely different from the real world. Sounds tricky, right? Simply put, VR is an intelligent technology that enables buyers to see or simulate the user experience with virtual goods on screen. This technology has already been used broadly throughout various marketing sectors such as gaming, beauty, fashion and furniture. The benefits to the buyer are obvious, as there is no longer a need to visit a physical showroom or trade show, but can be experienced and viewed by scrolling the mouse or exploring using a VR Headset. The products you view are literally the same as what you would see in reality, and the curious buyer can learn more by looking around in a virtual world of products. Most importantly, this technology becomes a necessity for our brand and product during a time when travel is difficult and work is being done remotely.
In terms of product presentation, VR combines virtual experience with product info graphics, providing an even more effective and knowledgeable visit. With product information and virtual imagery readily available, you no longer have to try to recall information or maintain brochures or catalog files. We're confident that LUMI's VR InfoSpace will dominate the immersive merchandising experience due to the ease and accessibility that it offers. It is the perfect tool for buyers looking for the latest trends and products for their business. Best of all, you lead the way throughout the visit, clicking product hotspots will quickly transfer you to the product detail page found on the LUMI website.

Welcome to our InfoSpace
LUMI's VR Gaming InfoSpace consists of several areas: Gaming Block, Racing Cockpit Block, Liveshow Block, Xbox/PS5 Block, Chill Block, Product Display and VR Block. We've added spectacular LED lighting accents throughout the VR Gaming InfoSpace to further enhance and cultivate a modern and exciting atmosphere for our visitors to explore.
Here's the News
We want your attention to be directed at the product itself, without any distractions. We feel that like honey sweetens tea, VR can give you an added dimension to product review and selection by using a tool previously unavailable.

With the introduction of the Gaming Products VR InfoSpace, we would like to promote some of our latest gaming products including our CH06 Gaming Chair Series, LDT39 Monitor Arm Series and the BLD01-147T Gaming Desktop. These items represent a great opportunity for your business.

·

CH06 Gaming Chair Series: CH06-2, CH06-4 and CH06-10 offer different arm, height and swivel adjustments. All have removable headrest pillows, adjustable
tilt backs and lumbar cushion designed to protect the gaming warrior's lumbar and neck during extending gaming time.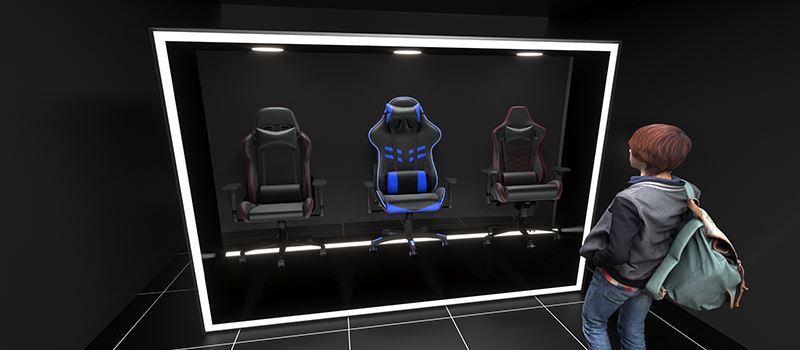 ·

LDT39 Monitor Arm: This gaming monitor arm series offers single or dual monitor models, USB ports and built-in lighting effects that bring excitement to any
gaming environment. You can never have too much information, so click on the products you find interesting for a full introduction.
·

BLD01-147T Gaming Desktop: RGB lighting that shines along the desk curves with a geo-honeycomb pattern built into the desk surface adds more
excitement and cool effects during game time.






Traditional merchandise window displays are in the past. You can have it all with LUMI's new Gaming Products VR InfoSpace – it's actually better than window shopping! So what are you waiting for? Click to check out LUMI's latest gaming products!