LUMI Wins Good Design Award for Studio TV Floor Stand
Date: 2020-10-23
In the traditional sense, the home is the hub of everyday life, with activities ranging from eating and entertainment to rest and work. As recent events have prompted, a further emphasis on transitioning from conventional work environments to work at home is taking place. This escalation in remote working has required an adjustment in "design thought" - inspiration for LUMI's experienced engineer Ni Yi to create FS12-46F Easel Studio TV Floor Stand that incorporate style, comfort and increased functionality using an innovative combination of materials.
This studio TV stand represent a movement to simplicity and elegance that differentiates the product from conventional TV stands. Using a combination of metals and beech hardwood, these new designs have been well received in the market and recognized by the creative industry by winning a coveted G-Mark Good Design Award 2020.
---
Presented by the Japan Institute of Design Promotion (JDP), the Good Design Award is a uniquely comprehensive platform for design evaluation and advocacy since 1957. It is a sign of high quality, innovation and creativity, which attracts about 5,000 entries submitted worldwide each year. G-Mark, the symbol of the award, has been recognized widely as an icon representing excellent design.
---
Engineer Ni Yi Says, " It features a minimalist style design with shades of intense black and glossy amber, providing a stunning image to the viewers. Crafted out of natural beechwood – a rare wooden material among other existing products, it gives the TV a feel of high quality and conveys a hint of natural appeal - add a more sophisticated yet personal statement to their living space. "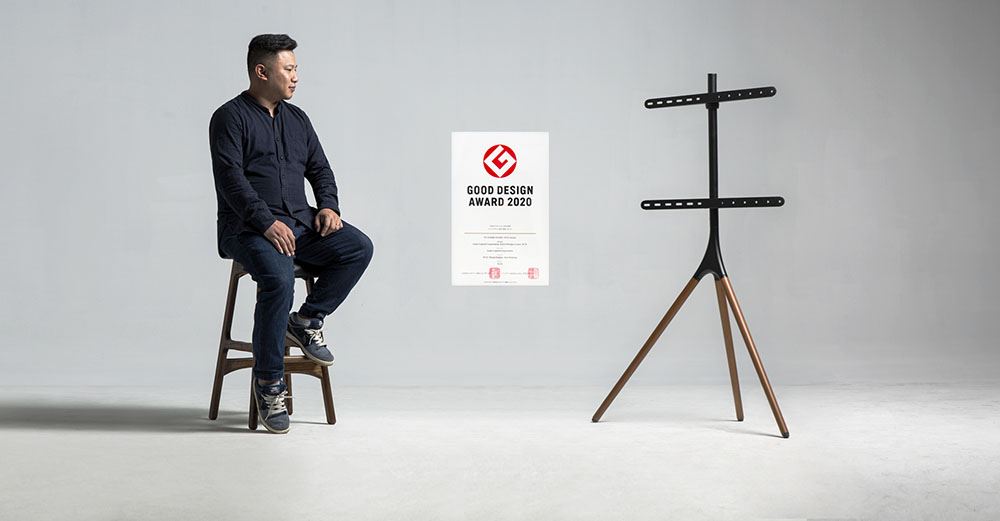 To learn more details of FS12-46F Easel Studio TV Floor Stands >>>