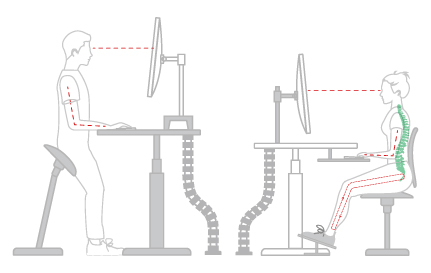 ERGONOMIC OFFICE BUNDLE SOLUTION
Ergonomics (a.k.a. human factors) is the process and science of how to optimize and improve efficiency and comfort in the workplace, which aims to reduce the risk of discomfort or injury and increase job satisfaction of employees. Proper ergonomic design helps create safe and productive workspaces by modifying the work environment to fit the workers.
No matter how you work or what you do, LUMI is the one-stop-shop for complete ergonomic product solutions. From height-adjustable tables, monitor arms, seating, privacy panels, footrests, CPU holders, cable management, and more! LUMI can outfit any home or office environment – no matter what you do!
We have created 5 combinations. Choose a solution that best matches your situation – check out what LUMI has for you!
Focused
Collaborative
Workaholic
Techie
Audiophile-Musician
FOCUSED
For those that need to concentrate 100%
on their job without distractions.