Monitor Arms (also sometimes called monitor mounts and monitor brackets) are an entire system used to support computer monitors. Whether it's for work or gaming, monitor arms are capable of enhancing the user's focus, reducing strain on eyes, neck, shoulders, back and giving one's desk a professional aesthetic appearance. LUMI manufactures a variety of monitor arms that allow anyone to tailor desk space to their specific needs and providing optimal comfort and efficiency. Below is a comprehensive guide on what to know before buying monitor arms.
This information can be used by you, the reseller, to assist you in selecting the right product for your particular customer base. In addition, the information below can also be used to help educate your customers to the features and benefits of each type of monitor arm that you may eventually offer for sale.
The Important Things Need to Consider Before Buying Monitor Arms
In general, a 75×75mm or 100×100mm VESA mounting hole pattern is located on the back of every computer monitor. The VESA plates of LUMI monitor arms are designed using standard VESA hole patterns that fit most any monitor. If the monitor doesn't happen to have a standard VESA pattern, we also offer non-VESA brackets that can be used to adapt the monitor to fit a standard sized VESA plate.
EASY TO INSTALL WITH REMOVABLE VESA PLATE
Locking Knob Design

Locking Knob Design
Quick Release Design

Locking Screw Design
Monitors are getting larger and wider, making it difficult to find suitable monitor arms. If the screen is too large for the monitor arm, some issues may occur that result in poor user experience. For example, some users might need a monitor to change from a horizontal (landscape) to vertical (portrait) position. In addition, when using two monitors together on one arm they might have difficulty be aligned to each other in height or distance from front of the desk. LUMI's monitor arms fit a large range of screen sizes from 17" up to even 43" - perfectly solving the above mentioned two issues and satisfying the needs of both standard and large screen monitors.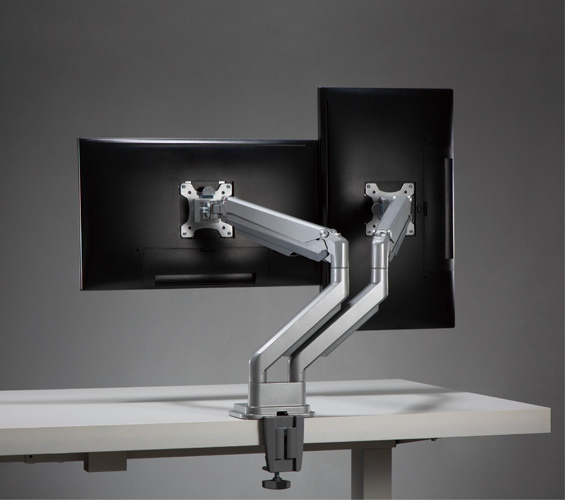 Larger monitors also weigh more. If a monitor is too heavy for a monitor arm, the arm will drop and become unable to hold a firm position. Also functions such as tilt, swivel and rotation may be impacted. The majority of LUMI's monitor arms support monitors up to 9kg/19.8lbs per screen and should an application require even more holding strength, the Heavy-Duty Monitor Arms such as LDT43 Series confidently hold and position up to 18kg/39.6lbs per screen.
Selecting a single monitor arm or multi-display mount depends on how many monitors are being used. For most office workers, a single monitor is sufficient, while the trend is for users to have multi-monitor workstations that provide increased viewing ability. Having a dual or triple display can transform the way people work for the better, increasing productivity and efficiency.
Also, LUMI manufactures multi-display mounts that are available in various configurations for custom applications including graphic, gaming, financial, surveillance areas and more.

There are three primary mechanical structures that LUMI uses within the arms. By using a variety of internal mechanisms, LUMI is able to offer arms of various capability at a variety of price points - satifying virtually every monitor viewing need or application. LUMI Laboratory tests each designs with up to 2,000 motion cycles using loaded weight for smooth operation and long-life.
Our monitor arms are primarily made from steel, aluminum and plastic materials. Steel and aluminum arms provide a sturdy and long-lasting constuction. Plastic components are often used for cosmetic design elements and internal parts that perform arm functions. Also, a professional surface finish that is both durable and pleasing to the eye. In addition, many of our monitor arms are available in a variety of colors and also provide the OEM with additional color options.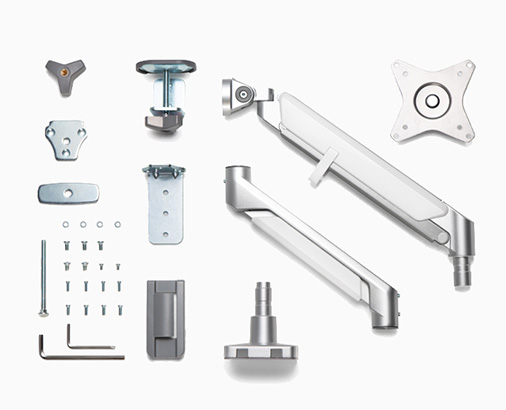 add_circle
Steel-Reinforced structure
high strength and durability
add_circle
Aluminum-Low corrosion
fully recyclable and sophisticated in appearance
add_circle
Plastic-Lightweight
mostly unbreakable and affordability
add_circle
Powder Coating
add_circle
Paint Spraying
add_circle
Sand-blasted Aluminum Anodic Oxidation
Typically, our monitor arms will include either a clamp or a grommet mount, and some arm models include both mounting options. In addition, freestanding mounts (with built-in base) are the easiest way to add a monitor arm to any desk. LUMI also manufactures wall-mounted monitor arms that provide a unique solution to customers that require monitors to be viewable for use in unconventional applications such as commercial, EDU and hospitality areas.
Standard Clamp
mounts to the edge of the desktop, maximizing use of desk sapce
Topside Clamp
no more crawling under desks during installation
Grommet
mounts to any part of the table through a hole
Freestanding
set the monitor on any flat surface and easy to move
Bolt-Down Base
secures the monitor mount to any surface for security and stability
Wall Mounted
mounts to any wall surface providing more workspace
Hanging Mount
free up cubicle space with improved viewing comfort
*Space Behind Desk
Some monitor arms, such as our LDT49 Series / LDT50 Series , include an "integrated rotation stop" that makes them the perfect choice for desks with limited rear space or located in a confined area. The rotation stop offers a selectable 180°or 360°movement that prevents the arm from impacting back walls or adjacent partitions.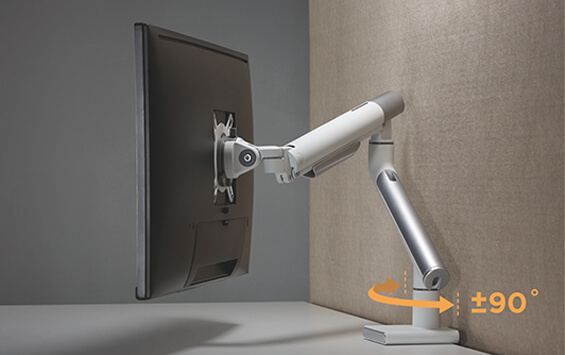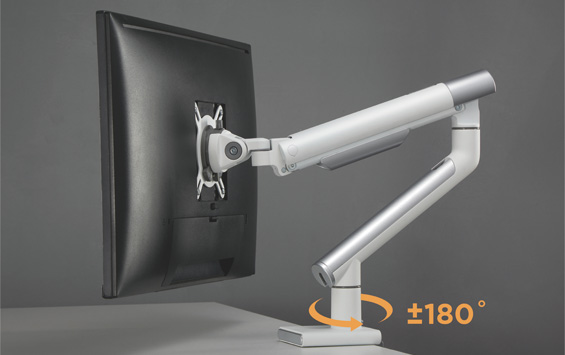 *Space Above Desk
Most dual monitor arms bring the monitors too close to the viewer when positioned side-by side. LUMI has solved that problem! Our LDT44 Series has reduced forward arm length that provides seamless positioning without eye strain while freeing-up workspace creating ample room and comfort.
*Tension Adjustment
for perfectly balancing the monitors
add_circle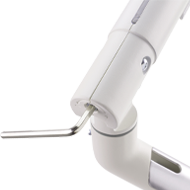 Built-In Spring Tension
Gauge
for perfect weight adjust-
ments
add_circle
Tension Indicator
designed for spring tension
alignment when installing
multiple monitors
Learn More expand_circle_down
*Angle Adjustment
for optimal viewing experience
Tilt Adjustment
positions the monitor in an upper or downward angle
Swivel Adjustment
turns the screen left or right at the desired position
Rotation Adjustment
allows for lanscape or portrait viewing
*Height Adjustment
for desired viewing height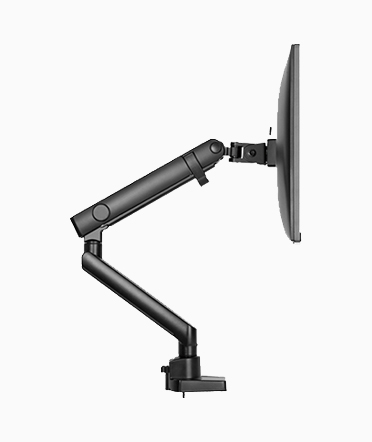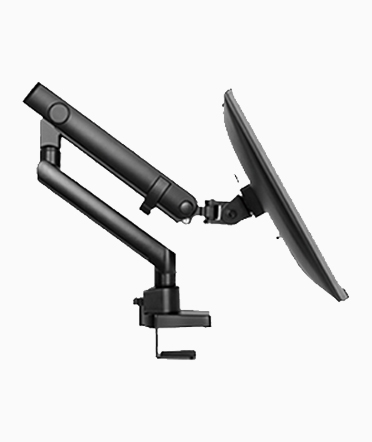 Base Mounts
easy to adjust height with a slight pull or press
Pole Mounts
provide a large range of height adjustment and enhanced stability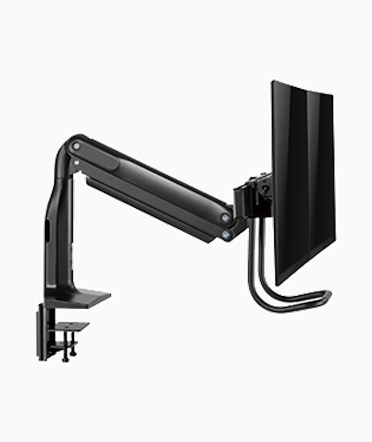 Handle-Assissted Mounts
effortlessly adjust the position of multi-displays simultaneiously
LUMI's R&D teams also focus on incorporating details that create a clean and orgnized work environment, this includes adding feature such as cable management and tool holder.
Cable Management
keeps everything organized
Tool Holder
easy access for any future adjustment
For workspace that highlights individuality.
With USB Ports or/and Multi-Media Ports
Product dimensions usually are the Length, Width and Height of a product. As for LUMI's monitor arms, the dimensions refer to the Width, Depth and Height of a product.
Measurement Standards:
Dimensions are measured with the arms fully extended, the VESA plates facing forward and the Clamp Knob located on the base tightened. *If the monitor arm is with a pole, d=0 (the distance from the top of the Pole to the top of the Arm Collar of the suspended arm)
• Width a: The straight-line distance from left to right. (Take the greater one between a1 and a2.)
• Depth b: The straight-line distance from front to back.
• Height c: The straight-line distance from top to bottom.
Products that build sales while solving common issues.