Big TV Trends from CES 2019
Date: 2019-01-28
The just-concluded show - CES 2019 was a big feast for TV companies. There are a lot of real innovations and big leaps came out this year. Although many of the newest techs need to take time to be launched on the market, from it, we can see some trends of televisions in the next few years.
1. Rollable OLED TV
Let's firstly talk about the revolutionary TV from LG - 4K Signature OLED TV R, that grabbed attention this year. The R representing for roll-up, means the screen can roll down into a long rectangular box base when not in use, and emerges up like sunrise whenever you're ready for watching. What's more, when raising the screen one-third out of the box base, you can access some of the entertainment contents like music, weather, and app, etc. In addition, it has a whole speaker system integrated, which supports WiSA that wirelessly offers crystal-clear and high-resolution surround sound. Furthermore, it features with deep learning AI algorithm and built-in Google Assistant and Alexa, making it the most intelligent television.
Related: How to Choose a Suitable Bracket for OLED TV
2. MicroLED
Next, let's talk about the MicroLED from another big TV maker – Samsung. One of the biggest announcements this year was the giant 219-inch and 75-inch display launched by Samsung that called The Wall. As the name implies, it uses millions of tiny, self-emissive micrometer-scale LEDs into LED modules, resulting in the flexibility of assembling it in different sizes, aspect ratios and shapes you want. Unlike OLED, it only uses individual red, green and blue pixels, so it can not only deliver industry-leading pure black level but also is incredibly bright and colorful. MircoLED is one of the most promising next-generation LED display technologies, and we still need to be more patient to wait for it can be produced at scale and purchased at a reasonable price.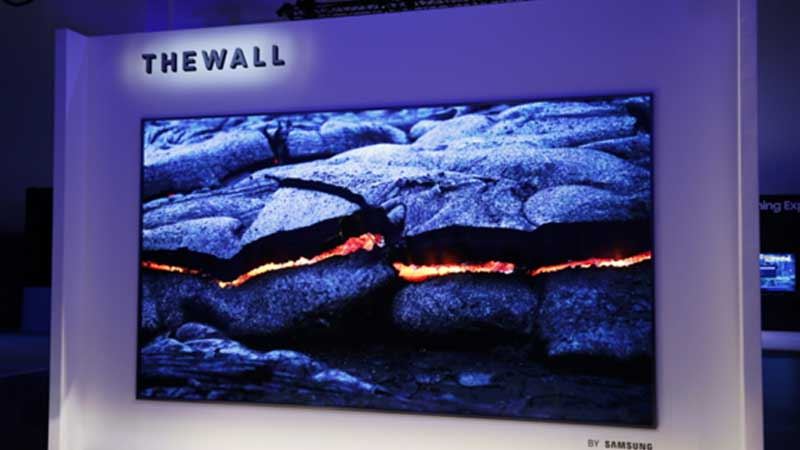 3. 8K TVs
A number of companies at CES 2019 unveiled massive size 8K display, such as Samsung, LG, SONY and TCL. Now you may ask what is 8K? If you think that 8K is double the resolution of 4K, well, that isn't the case. Since we are talking about the dimensions here – the horizontal lines and vertical lines. 8K is four times more resolution than 4K – that is typically 7680 x 4320 pixels. Have to say that until now there is little evidence that consumers are asking for it, and 8K is a complete lack of content, so the future of 8K TVs remains to be seen.
4. HDMI 2.1
As the display becomes bigger and the resolution becomes higher, many big TV makers are making the upgrade to HDMI 2.1, which improved bandwidth to 48 Gbps. The HDMI 2.1 allows far more data to pass through the cable, which supports a range of higher resolutions up to 10K and enables 4K Video at up to 120 fps or 8K video to 60fps. In addition, the variable refresh rate (VRR) of HDMI 2.1 is going to be a big difference maker for gamers, which reduces or eliminates lag, stutter, and frame tearing for more fluid and better-detailed gameplay. Some to the 8K content, there is little HDMI 2.1 source yet, but updating is quite worthwhile when taking the TV trends and development into account.

LUMI – as the professional Chinese supplier and manufacturer of mounting and ergonomic solution, provides products like TV mounts, TV stands and carts, speaker mounts and stands, video wall mounts, sit-stand desks, monitor mounts, and other pro AV mounting solutions. If you have any questions about our products and serves, please feel free to contact us.